How we can support you, your school and your pupils
Whether it's through the resources and advice on our website, our bespoke training courses, or our consultancy and service design offer, we can support your whole school and give you the confidence to make a difference.
Resources and advice

We have a range of information, advice and resources, including wellbeing activities, toolkits and webinars to help you support your pupils.

Mental health training and courses

Our courses cover a wide variety of mental health topics that promote whole-school wellbeing and help improve mental health support for your pupils.

Whole school improvement

Our service design consultancy will support you to commission, design and improve mental health support across your school.
Wellbeing advent calendars 2023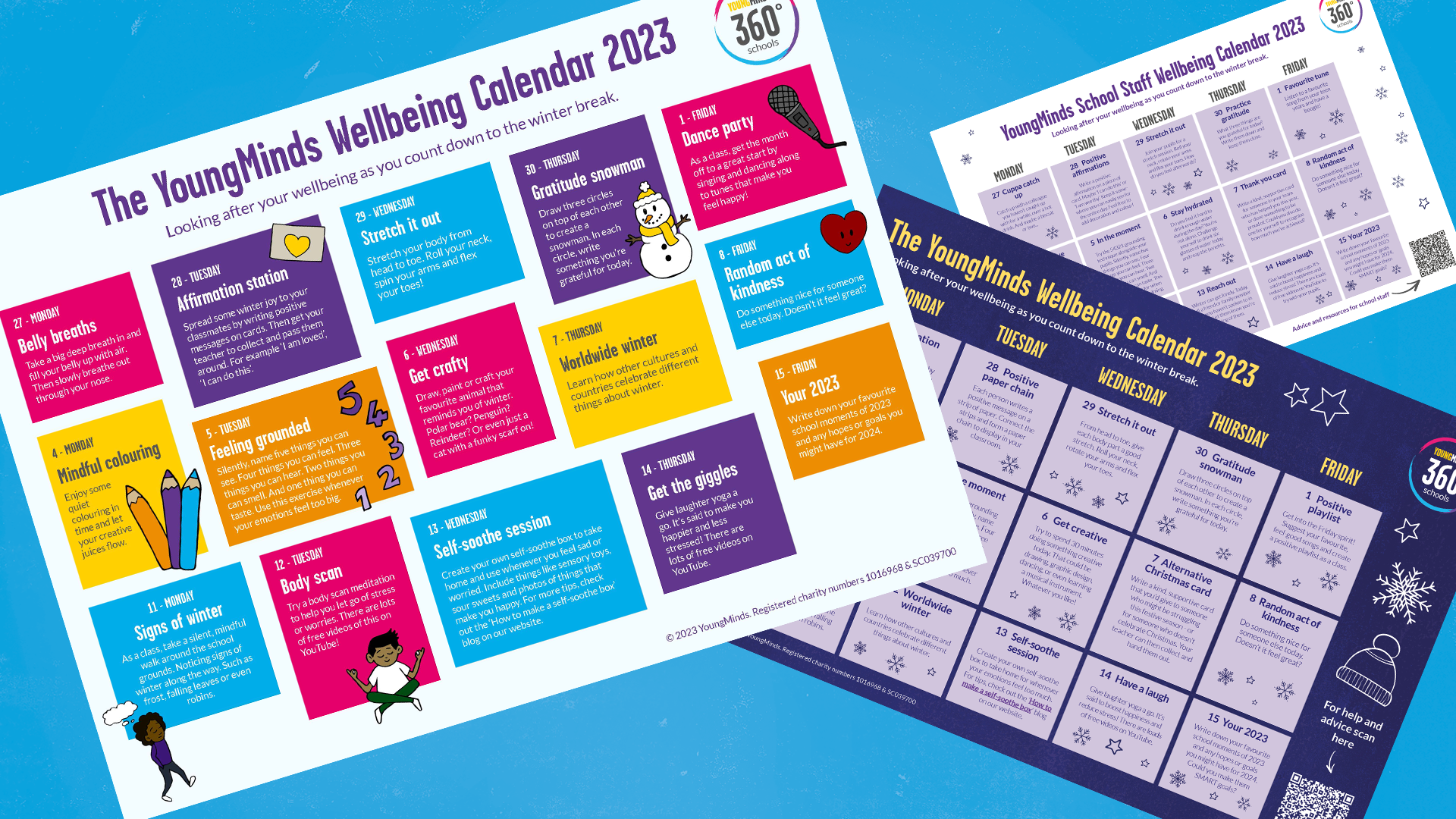 Our new wellbeing advent calendars for 2023 are now available!
With separate versions for primary, secondary, and staff, these calendars give you and your class a daily activity to promote wellbeing and resilience in the run up to the winter break.
Download our calendars to use in your school this year.
How you can get involved with our work
We offer training to support whole school improvement
Consultancy and service design
A whole school approach is the most meaningful and impactful way to build resilience in your staff and pupils, including those who are more vulnerable.
We support senior leaders and commissioners to assess school systems and embed approaches that will help pupils and staff learn to cope with adversity, enjoy learning, and look after their mental health and wellbeing.
Take a look at our consultancy and service design offer to see how we can support you to improve your school's mental health support.
We know how important the wellbeing of your pupils is to you, but it can be difficult to know where to start.
Our schools' training offer will give you the skills and knowledge to make mental health and wellbeing a core and rewarding part of your job.
Browse our mental health training courses to see what would best suit your school's needs and sign up.
As a school, this programme has helped to build capacity in staff in relation to early intervention and resilience, has changed the mindset of staff, and the drive and focus on this helps give staff confidence in this area.
Join our 360° Schools Community
Get resources and advice to your inbox
We know that you want to do everything you can to support the wellbeing of your students, but sometimes it can be hard to know where to start.
That's why we created our 360° Schools Community: to share information, resources and tips that give you all the tools you need to look after your pupils' mental health and wellbeing.
Sign up now to start receiving e-newsletters packed with the latest free teaching resources, videos and tips straight to your inbox.
Resources and materials
Our resources will help equip your whole school community to build resilience and improve wellbeing.
Support classroom conversation with our resilience cards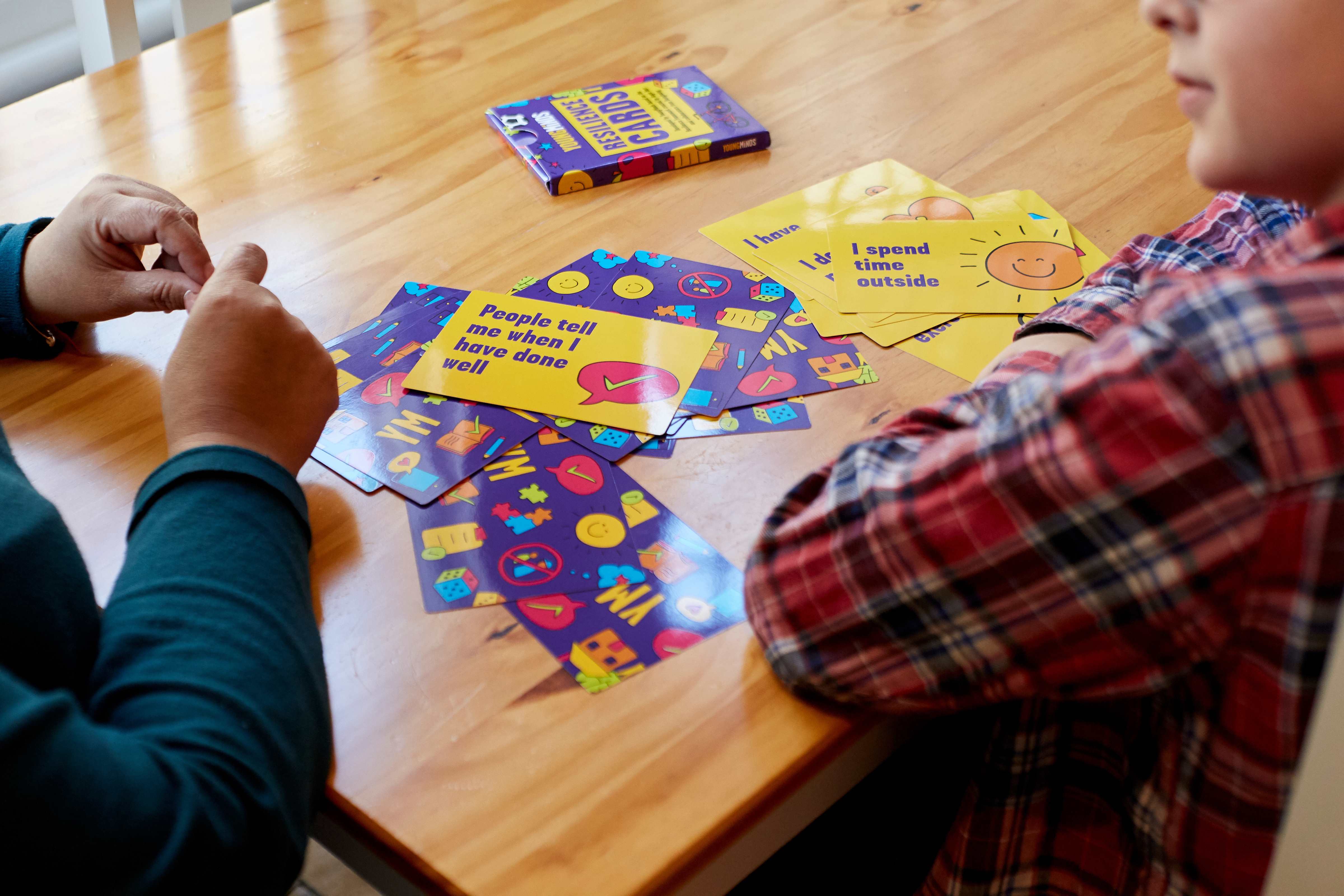 Our packs of resilience cards help pupils build conversation around mental health in 1:1 or group settings. Each pack contains one instruction card and 31 prompt cards featuring a resilience statement.
These cards encourage pupils to identify the resilience they already have in their lives and recognise why building resilience is vital to coping with difficulties.
You can buy a pack of resilience cards from our shop: