Topic:

Practical tools for support, Mental health in schools
For:

Schools
This resource covers:
Activities, resources and lesson plans for the classroom to support your pupils in the lead up to their exams and help them look after their mental health, as well as tips for school staff to look after their own wellbeing.
Staff wellbeing tips for exam time
We know exam time can be hard for teachers and school staff too. Like your students, you have spent months of effort getting them ready to do as well as they can in their exams. It's important to remember that you are holding a lot of responsibility and can become very emotionally invested in the young people you teach. Take some time to look after your own wellbeing and speak to a friend or colleague if you need some help. You can also download our staff tips.
Document type: PDF
Document size: 0.2MB
Have faith that you have equipped them with everything they need to manage the exams.

Try to stay relaxed during exams

Modelling this will help your students feel calm and ready.

Don't make massive changes to your life

Keep things simple and organised. If you need support, make sure you seek out your friends and colleagues and share the challenges of your day.

Remind yourself and your students how hard you have worked this year. Celebrate the end of the tests or exams and feel proud of all that you've achieved.

Remember that, while you are holding your students in mind, tests and exams can be stressful for you too. Maintain a healthy lifestyle and ensure you have breaks. 

You may feel very emotionally invested in the young people you teach and if you feel anxious, use your wellbeing strategies to support these feelings.
Balance activity for exam time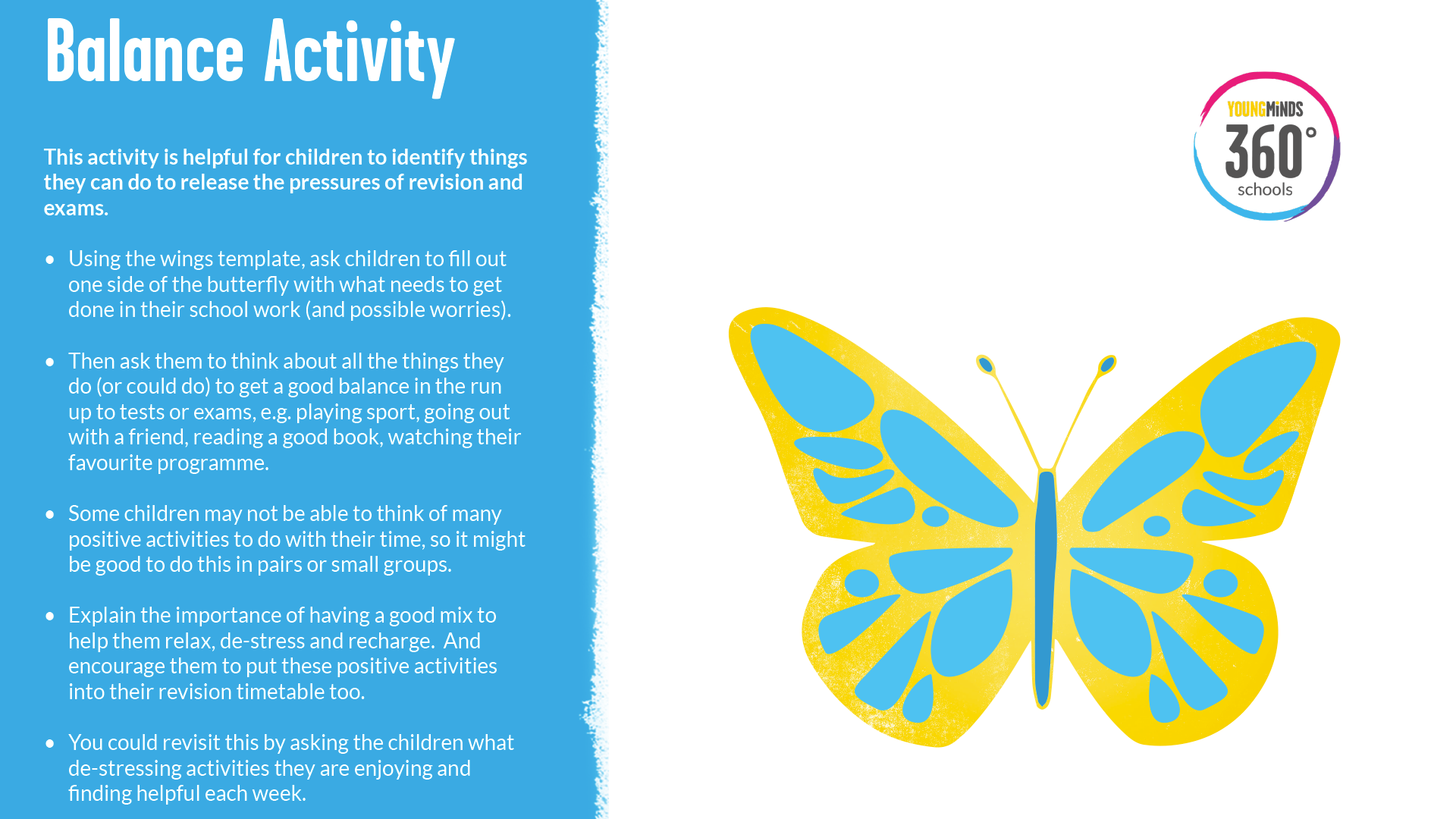 Many pupils may struggle to find a healthy balance between revising and resting during exam time. This simple worksheet helps them visualise that balance by listing all their worries, what they need to get done, and what they can do to rest and relax. You could revisit this by asking the children in your class what de-stressing activities they find helpful each week.
Document type: PDF
Document size: 2.2MB
Stress buster timetable for exam time
Wellbeing tips for secondary pupils during exams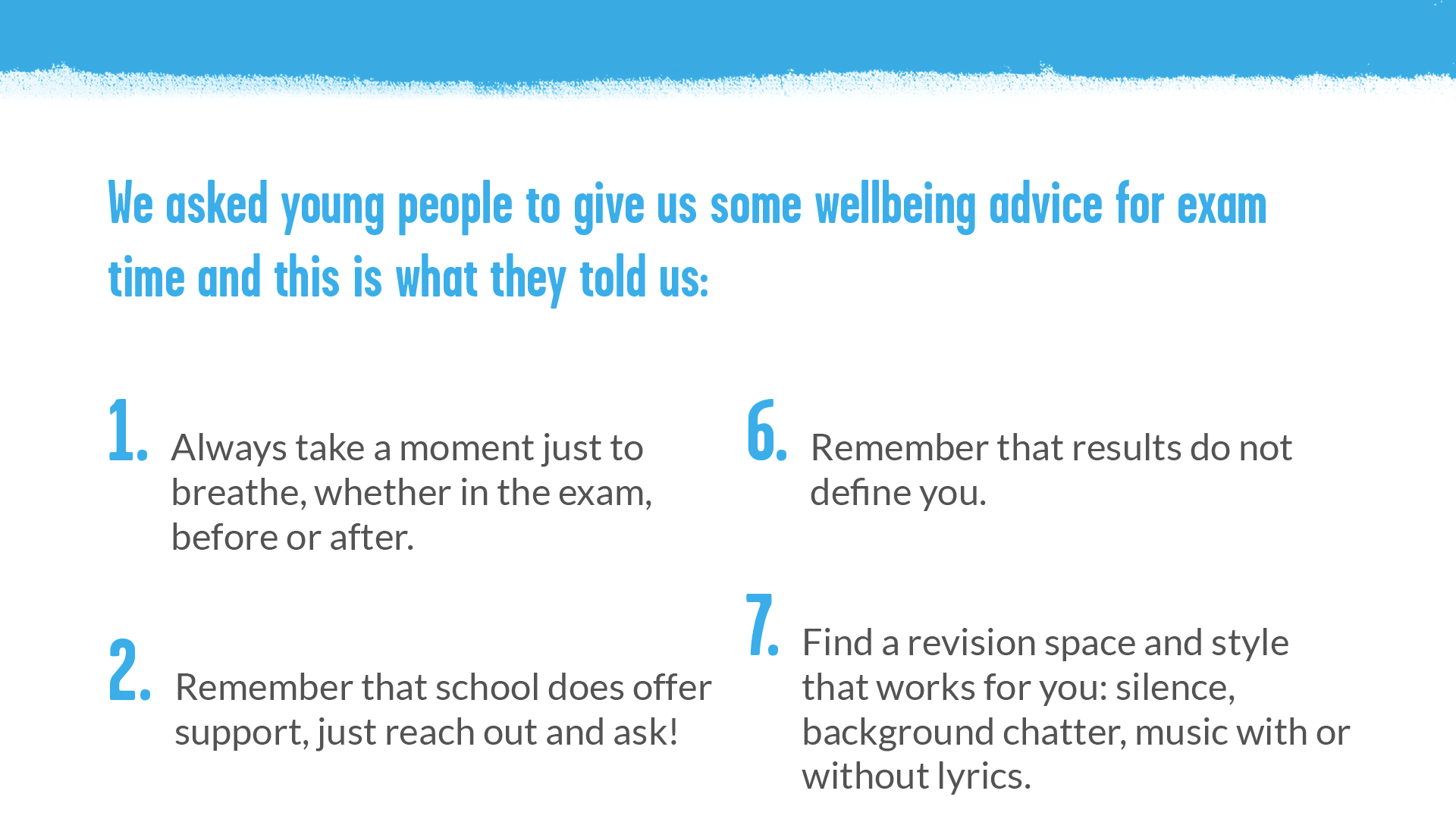 Exam time can be a really stressful and challenging time for pupils and it can be especially hard for young people who are struggling with other areas of their school or home life. We asked young people to give us some wellbeing advice for exam time and put together this handy poster for you to use at school.
Document type: PDF
Document size: 0.3MB
Wellbeing tips for primary pupils for SATs week
A young person's guide to exam stress
Whether you love the page or think something is missing, we appreciate your feedback. It all helps us to support more young people with their mental health.
Please be aware that this form isn't a mental health support service. If you or a young person you work with is in crisis right now and wants to talk to someone urgently, find out who to contact on our urgent help page.
At YoungMinds we take your privacy seriously. If you'd like to read more about how we keep the information we collect safe, take a look at our privacy policy.
Related courses
Online training

Building resilience

22 March 2024

Understand the importance of resilience and how to help build it in the children and young people you work with.