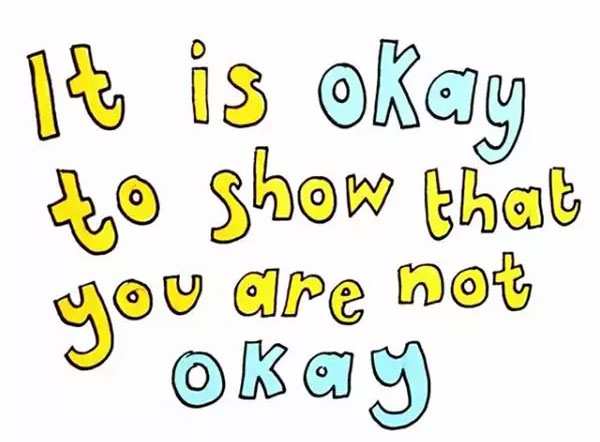 Sometimes things can seem overwhelming, and it can feel like you can't cope or it is too difficult to manage how you're feeling. You may simply just be having a bad day, or you may have an ongoing mental health problem that needs support. The important thing is not to try to cope on your own.
When you're struggling, it's not good to spend too much time alone, especially if you are feeling low and vulnerable. It's at times like these that you need to be able to talk to someone. Don't be afraid to ask for help.
Opening up for the first time is the hardest part - it becomes easier after that.

Although I still find it hard to reach out, I know there is someone that would rather sit down and listen to me cry than see me suffer in silence.
You deserve help and support
Sometimes when you reach out for help, the person you talk to may not react the way you hoped they would or give you the positive support you need, which can be really difficult. This could be because they don't share the same understanding of mental health as you, or there might be another reason. But if that happens, their reaction is about them, not you.
Don't let people's reactions discourage you from reaching out again, whether that be to the same person or someone else you trust. Remember there are lots of people who want to help you.
You deserve help and support – don't forget that.
I can't remember too much about the call, but I do remember that I had never felt so heard and understood until that moment. I was bawling my eyes out, and the person on the end of the phone was warm, kind and patient. They lifted an enormous weight off me simply by being there for me in my moment of crisis.
Know that you're not alone in this and people around you want to help you.

Simply talking about my problems out loud to people that supported me was freeing. I felt that I was making progress.

In my opinion, it's very important to find somebody you trust to talk to about what you're going through. I shut myself away instead of asking for help and it made things even harder for me. It might feel impossible but opening up for the first time is the hardest part- it becomes easier after that.

Talking to my mum about my mental health for the first time was probably the scariest - and simultaneously the best - thing I have ever done.
Whether you love the page or think something is missing, we appreciate your feedback. It all helps us to support more young people with their mental health.
Please be aware that this form isn't a mental health support service. If you are in crisis right now and want to talk to someone urgently, find out who to contact on our urgent help page.
At YoungMinds we take your privacy seriously. If you'd like to read more about how we keep the information we collect safe, take a look at our privacy policy.