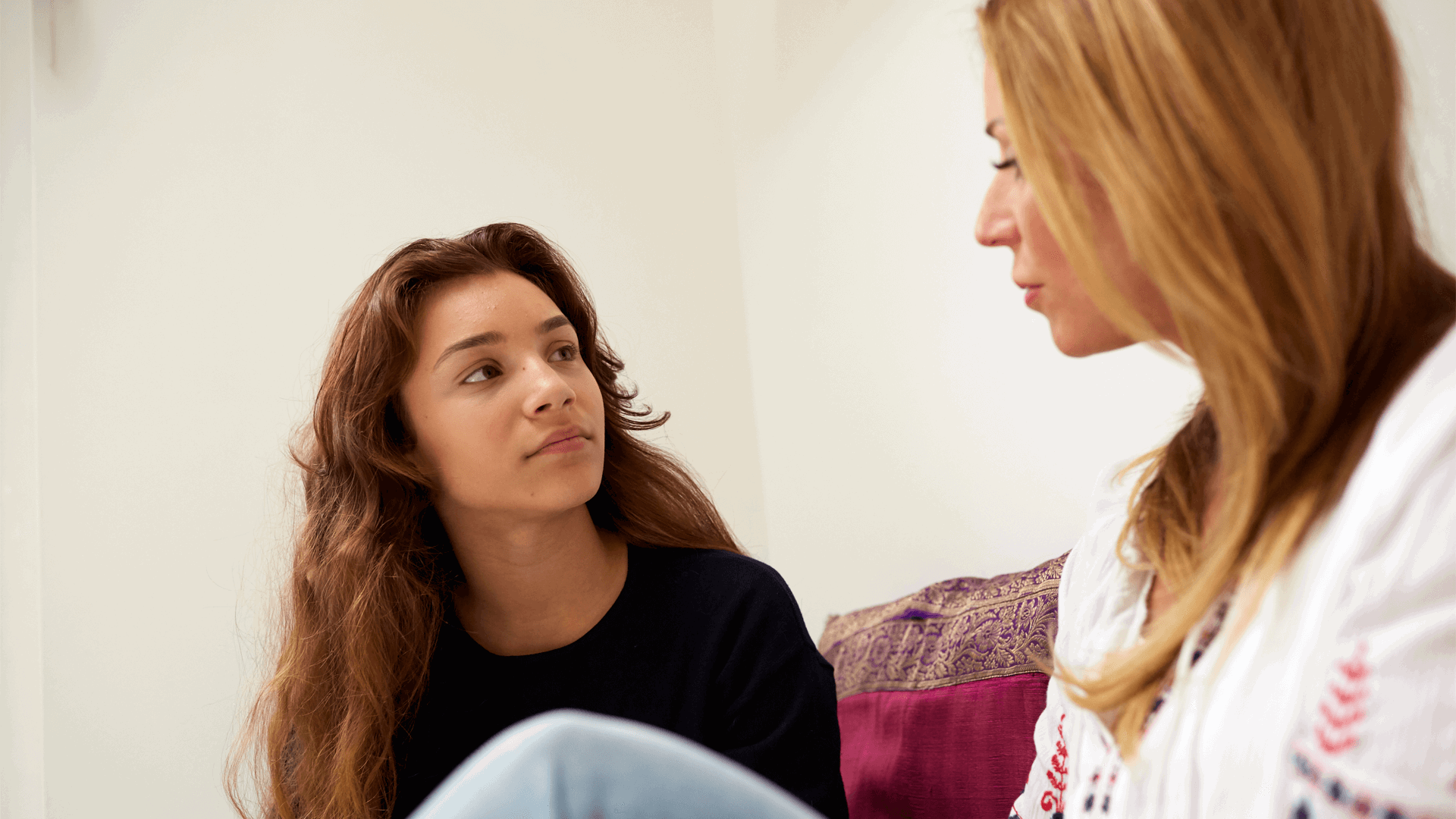 Counselling and therapy (sometimes called 'psychotherapy') are both types of talking therapy that involve talking about – or exploring through art and other creative materials – feelings, thoughts and experiences. This can help your child to make sense of what's going on in their life and find ways of coping when things are difficult.
If your child is struggling, it can be really difficult and worrying as a parent – and it might feel like a big step to decide to reach out to a counsellor or therapist. Parents tell us that when they were in this situation, they worried about whether they had done something wrong, or whether their child's counsellor or therapist would blame them. In fact, lots children and young people go to counselling or therapy at some point, and for all sorts of reasons – and a counsellor or therapist should work with you supportively to think about what's going on and how you can makes things better.
Therapy helped me to gain a better understanding about how I was feeling and it allowed me to learn how to cope with my emotions without getting overwhelmed by them.
How can I get counselling or therapy for my child?
Before speaking to professionals, it's helpful to make a note of your concerns and when you have noticed particularly worrying behaviours or feelings. You can then take this with you to appointments to give the professional a clear sense of your child's situation, and to support your request for a referral to counselling or therapy.
As you find your way around local services, it might also help to talk to other parents who have been through this, or to speak to any friends or family who might be able to advise you about where to get started.
I spoke to other parents about this topic and those who worked in mental health. I asked them what help they thought I needed. It's always good to open the conversations up and talk to other parents and mental health professionals.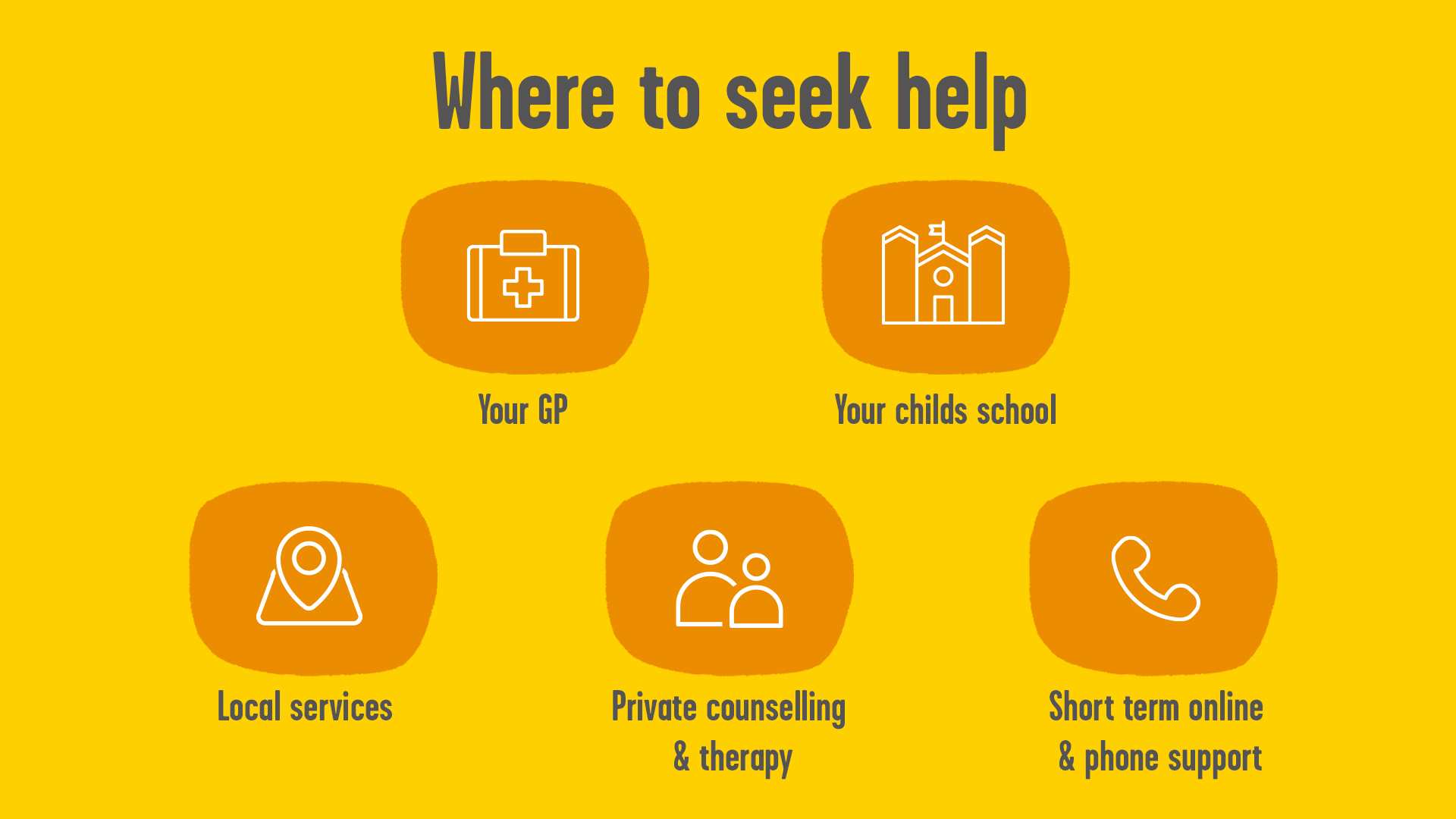 Speaking to your GP is usually the first step to accessing counselling or therapy through the NHS. Your GP can help by:
talking through your concerns
referring your child to a local counselling service, or letting you know what's available locally
referring your child to an NHS counselling service, for example through your local Child and Adolescent Mental Health Services (CAMHS) team, which is the NHS' service for young people
You can speak to your GP to ask for advice with or without your child.
Some schools, colleges and universities offer free or subsidised counselling services for students. Talk to your child's teacher or another member of staff to find out what's available, and ask them to make a referral.
It's often helpful to do this through a face-to-face meeting so that you can clearly communicate your concerns. After the meeting, send a follow-up email to confirm what's been discussed and what action the school is taking – and then follow up again to check how things are progressing.
Your child's school or college can also help by:
referring your child to CAMHS and other local services
sending a note to your GP to support your concerns and request for a referral, and to outline any behaviours they have noticed at school
There may be free or subsidised counselling services in your local area, provided by organisations such as charities or the local council. You can search for these online, and/or by using the Youth Access directory.
If it's an affordable option for you, your child can see a counsellor or therapist privately. When looking for a private therapist, it's a good idea to:
get recommendations from people you know and trust.
search for someone who is trained or experienced in working specifically with your child's age group.
ask the therapist to explain how they work and to tell you what their qualifications are.
request an initial consultation so your child can see if the therapist is a good fit (some therapists offer free initial sessions).
check if the therapist offers reduced prices for people who are unemployed or on a low income, if this applies to you.
confirm the cost and likely length of therapy before your child starts seeing them.
It's also very important to make sure that the private therapist or counsellor is fully qualified, so that the support your child gets is helpful and safe. You can use these websites to find qualified therapists who are registered with a professional body:
Online counselling doesn't work for everyone, but for some teenagers, it can be a good way of trying it out and getting some short-term support – which might help them feel more ready to talk to someone face-to-face.
The Mix offers up to eight weeks of free online or telephone counselling for young people aged 25 or under, with a focus on providing listening support and finding ways to cope. You can find out more about their service here.
Kooth provides an online chat service for young people, through which they can speak to counsellors.
Just keep going and explore all the options you can. Don't exclude any options and pursue every avenue. Talk to other parents, especially someone who might be able to give you advice about what's available in your local area or in the regional area.
Common types of talking therapies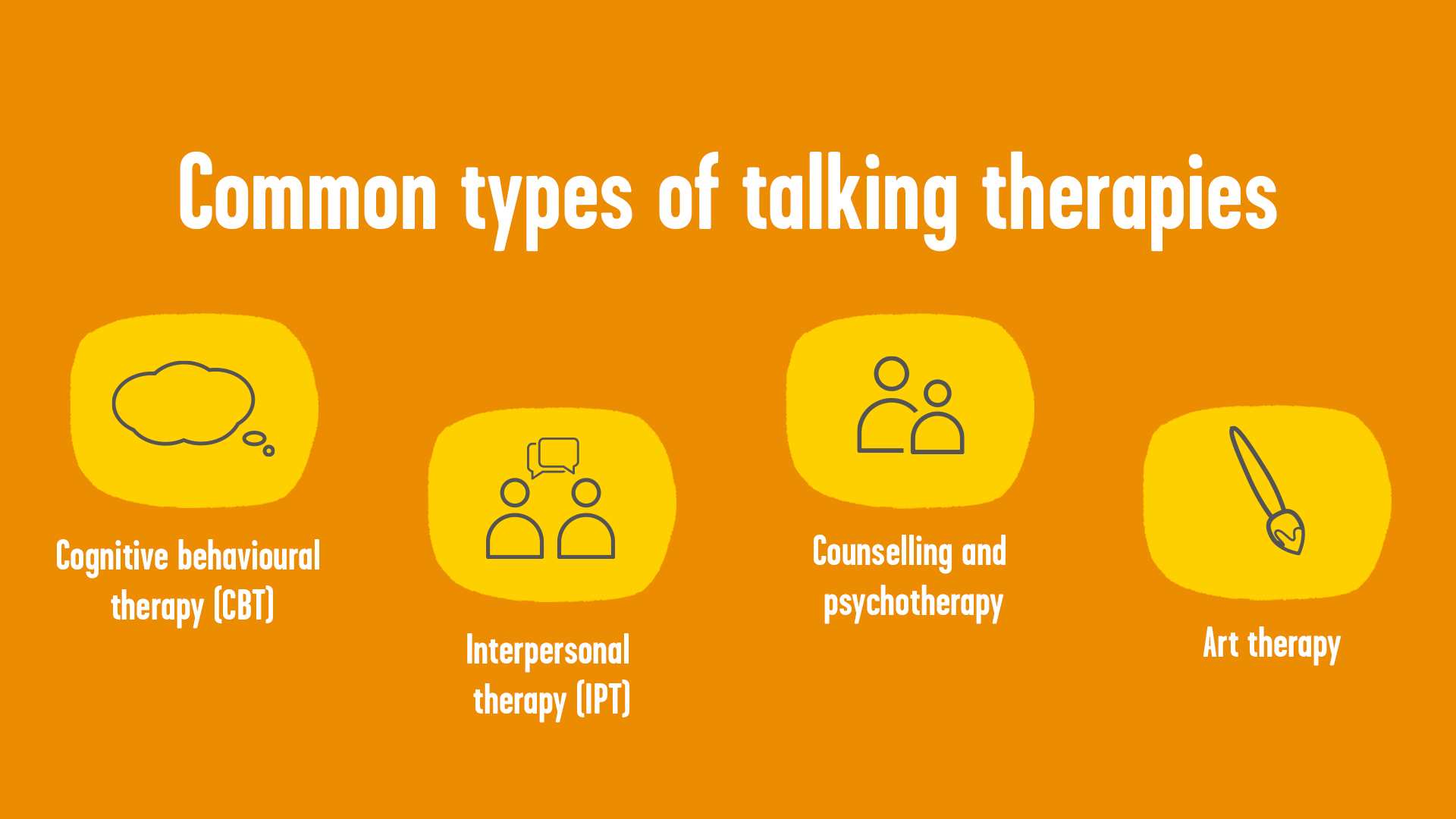 The types of therapy offered by the NHS, schools and private counsellors or therapists can be slightly different. The NHS often initially offers online, group or individual cognitive behaviour therapy (CBT) or interpersonal therapy (IPT). Schools, local services and private counsellors may offer a range of talking therapies, including play or arts-based.
Cognitive behavioural therapy (CBT) can help someone to understand how they think about things and to challenge beliefs and behaviours that aren't helping them. A course of CBT normally lasts between 12 and 20 sessions.
Interpersonal therapy (IPT) can help someone to understand and address problems in their relationships. It is normally suggested for people struggling with depression and relationship difficulties. A course of IPT normally lasts between 12 and 16 sessions.
Counselling and psychotherapy can draw on lots of different ways of working. Sometimes, counselling is shorter-term whereas psychotherapy tends to be medium- or long-term. These are sometimes offered in schools, and can also be accessed privately.
Art, music, drama and play therapies can help people to express difficult feelings and find safe ways of exploring what's going on. These types of therapy are sometimes offered in schools, and can also be accessed privately.
Talking to your child about counselling and therapy
Your child may feel worried or unsure about speaking to a counsellor – for example because it feels like a big step to open up, because they don't know what to expect or because they're worried about what other people will think. If your child wants to find out more about counselling and therapy themselves, they can have a look at our guide for young people.
If it's been difficult to start a conversation with your child about trying a counselling or therapy session, other parents have found that these things can help.
It might help to do this while walking or doing an activity, which can help your child to feel more relaxed and make it feel less like a 'big chat'. You can find our activity ideas on our guide to starting a conversation.
Reassure them that it can help some people to feel better, and that it's okay for them to give it a try and then stop at any point if it doesn't feel right for them.
For example, you might let them know that they're not on their own in having a difficult time and needing some extra help – and that lots of young people go to counselling at some point. You might also reassure them that how they're feeling is really understandable, and that sometimes you have gone through periods of feeling more down or worried and needing support too.
Having a few days to think it through on their own might help it feel less overwhelming. Check in to see how they're feeling a few days on, and don't give up on the idea just because their first reaction is that they're not sure.
They might feel more comfortable to try it if they know that they are in control of who they feel safe speaking to.
Some young people feel more comfortable talking in this way.
Your child does not want to be a "problem". Most don't want to be treated any differently, or picked out as an 'issue'. Keep things low-key, comfortable and private.

One of my children was happy to engage in support, whereas my other child was reluctant to participate. How a parent talks about therapy can affect the way children perceive this type of support.
Supporting your child during counselling or therapy
Let them know you're still there for them whenever they need to talk.

When they do open up to you, try to focus on listening, showing empathy and being curious about what it's like for them, rather than trying to 'fix' things straightaway.

Give them practical support if they need it.

For example, if your child feels uncomfortable about going to sessions on their own, offer to go with them and wait outside.

Try not to take it personally if your child finds it easier to open up to a counsellor or therapist.

Remember that sometimes it's helpful and healthy for a young person to speak to an adult who isn't in the family, and who has some emotional distance from the situation.

Be supportive about the new coping strategies they try.

This may be particularly important if your child is having cognitive behavioural therapy (CBT), which tends to focus on learning and trying new techniques.

Don't give up if your child doesn't like the first counsellor they see.

Like all people in their life, young people will feel more comfortable with some therapists than others – and different personalities will suit different people. If they don't like the first therapist they see, try looking for someone else.

If your child is on a waiting list for counselling and therapy, try some practical strategies together.

You can find lots of tips for specific feelings and conditions, such as anxiety, depression and self-harm, here on our website. Keep communication as open as you can and make time for doing fun activities that give them a break.
The first session was the scariest, I had so many questions racing through my mind: would I get along with my therapist? Could she really talk to me without judgement? Am I in control of the session? The answer to all of these was yes! The first step into therapy is often the hardest but, for me, it was the most rewarding.
If you are unhappy with your child's counsellor or therapist
Speak to your service provider to talk through your concerns. If things don't improve for your child, ask if they can see a different counsellor, or look for a different therapist if they are seeing someone privately.
If your child thinks that an NHS counsellor or therapist has treated them unfairly, they or you are entitled to make a complaint. If you're concerned but don't want to make a formal complaint, speak to the clinician treating your child, or contact your PALS (patient advice liaison service) at your local hospital for confidential advice and support.
If you would like to make a formal complaint, check the complaints process. Every NHS organisation has its own process, but they must all follow the same NHS rules. If you can't see the complaints process online, call or email the complaints department.
If your child is seeing a counsellor or therapist outside of the NHS and you want to make a complaint, speak to the service provider and ask to see their complaints policy. If your child is seeing a private counsellor or therapist, you can speak to the professional body they are accredited with, and ask to see their complaints policy.
Finding the right counsellor is key, and don't worry about offending a counsellor by saying they're not the right one – they always understand. Well, they should anyway!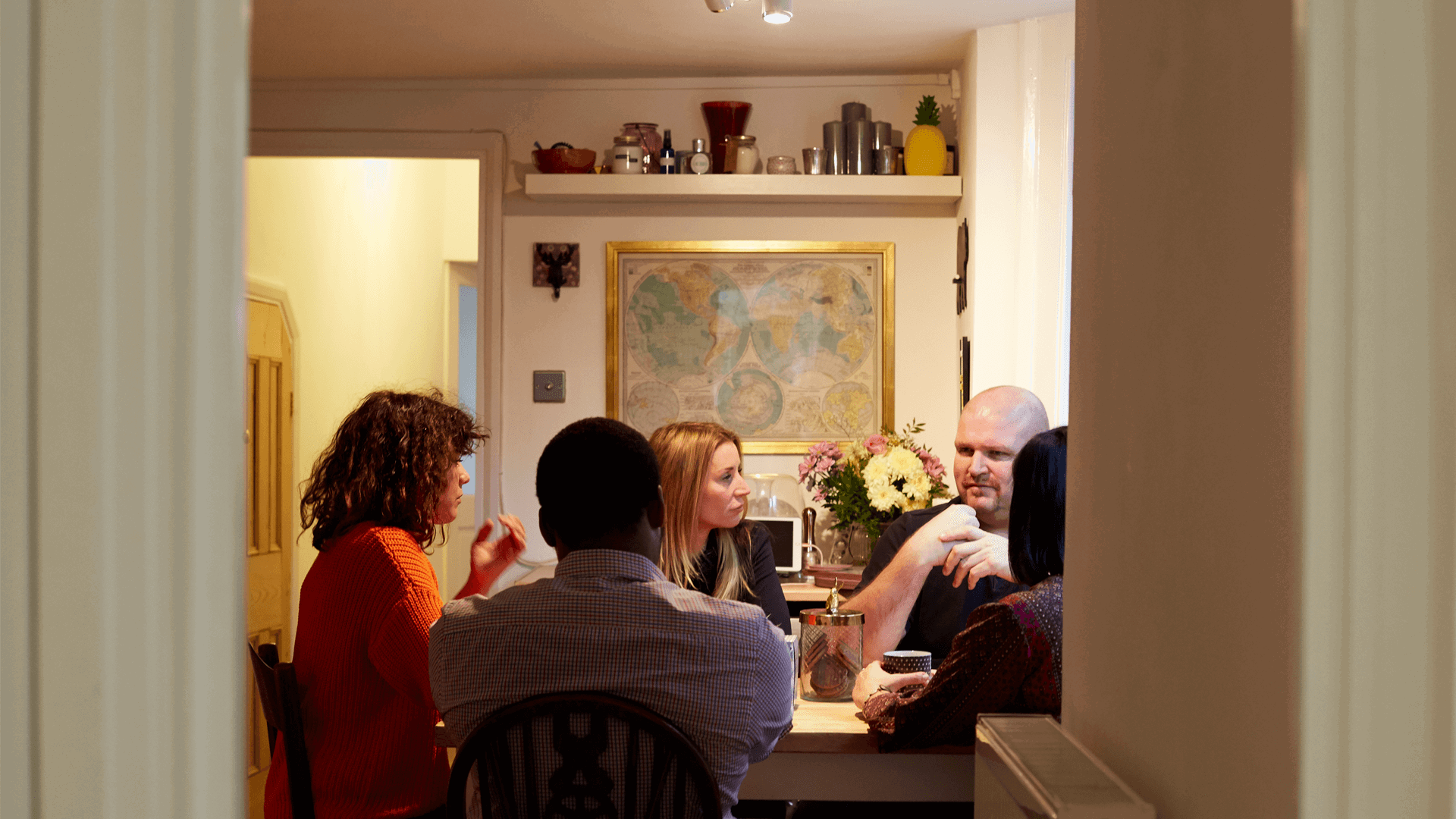 Supporting your child when they are struggling and trying to find them the right help can be worrying and exhausting. Try to take time when you can to check in with yourself and think about ways you can take care of yourself as well as your child. Remember that it's okay to ask for help when you need it, and to share your worries with someone you trust.
Many parents find it helpful to reach out to other parents so they can talk through how they have handled difficult situations with their children and get some support. You can connect with other parents by:
Be kind and honest with yourself.
Where to get further support
Useful helplines and websites
Opening times:

3pm - 12am, seven days a week

If you're under 19 you can confidentially call, chat online or email about any problem big or small.

Sign up for a free Childline locker (real name or email address not needed) to use their free 1-2-1 counsellor chat and email support service.

Can provide a BSL interpreter if you are deaf or hearing-impaired.

Hosts online message boards where you can share your experiences, have fun and get support from other young people in similar situations.

A free app for teenagers (11+) providing resources and a fully-moderated community where you can share your problems, get support and help other people too.

Can be downloaded from Google Play or App Store.