Guides and advice
Whether you want to understand more about how you're feeling, get information about a mental health condition or find out what support is available to you, our guides can help.
Bayo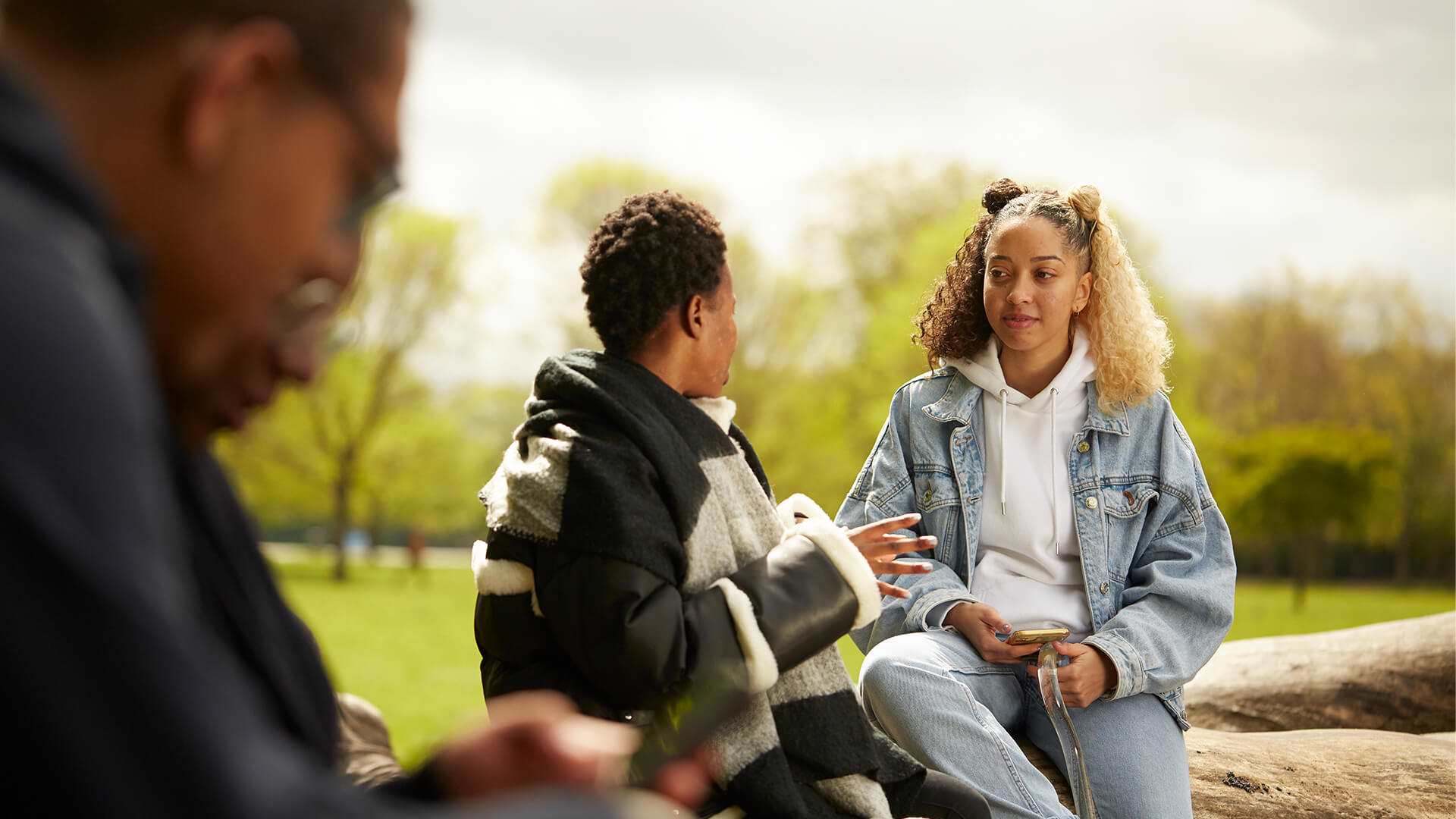 We've teamed up with The Ubele Initiative, Mind and Best Beginnings to help create a space for Black young people to find support, care and joy.
The word bayo comes from Yoruba and means "joy has found us". We chose this as the name for this platform, as we want it to be somewhere not just for Black young people to get support, but to draw strength.
As part of the campaign, we've created a list of organisations that work specifically with Black young people, including places where Black young people can get mental health support in their local community.
Get help now
If you're under 19 you can confidentially call, chat online or email about any problem big or small.

Sign up for a free Childline locker (real name or email address not needed) to use their free 1-2-1 counsellor chat and email support service.

Can provide a BSL interpreter if you are deaf or hearing-impaired.

Hosts online message boards where you can share your experiences, have fun and get support from other young people in similar situations.

Whatever you're going through, you can contact the Samaritans for support.
Follow us on social media for more advice and tips
Frequently asked questions
YoungMinds Textline offers you free, 24/7 test messaging support, wherever you are in the UK. Text YM to 85258 to start chatting to a trained volunteer.
You can also call Childline to speak to someone about how you are feeling. 
If you are at immediate risk or harm, please call 999 and ask for an ambulance.
Our urgent help page has more information on who can support you in a crisis.
We all have mental health, just like we all have physical health. It's about how we think, feel and act. Sometimes we feel well, and sometimes we don't. When our mental health is good, we feel motivated and able to take on challenges and new experiences. But when our mental health is not so good, we can find it much harder to cope. Find out more about mental health.
We all have good days and bad days, but when negative thoughts and feelings start to affect your daily life and stop you doing the things you enjoy, or your ability to feel ok, this means you probably need some support with your mental health. For example, nearly everyone gets anxious before an exam, a job interview or a first date. But if we feel anxious all the time, constantly worrying that the worst could happen, and this stops us sleeping well or meeting up with friends, we might benefit from some help. Find out more about mental health. 
We're sorry that you're going through a tough time right now, and we're with you. We have lots of advice and tips from other young people who've been there, as well as information on where you can get more support. Use our helpfinder to explore how to cope with what you're going through and how you're feeling. Remember, you are not alone and things can get better.
We provide young people with tools to look after their mental health. We empower adults to be the best support they can be to the young people in their lives. And we give young people the space to get their voices heard. Find out more about who we are and what we do.
Whether you're struggling with how you're feeling, you want to know more about a mental health condition or medication, we're here for you. Search our website for advice on how to look after yourself and where and how you can get the support you need.  
You can send text YM to 85258 any time to chat to someone if you're finding it hard to cope. 
Follow us on Instagram @YoungMindsUK for regular mental health tips and reminders. 
Take a look at our guide to support for information about how Child and Adolescent Mental Health Services (CAMHS) work, including information on how you can get help from CAMHS, what happens at an assessment, what your rights are and more. We do not provide one-to-one support with CAMHS assessments, treatments or complaints.
YoungMinds Textline offers you free, 24/7 text messaging support wherever you are in the UK. If you need someone to talk to about how you're feeling, text YM to 85258. YoungMinds Textline is powered by our trusted partners Shout 85258